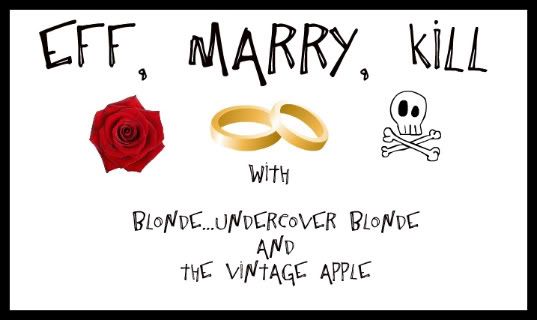 So I found this awesome link up party, where you can be silly and fun!
It's basically sharing who you would eff, marry, and kill.
I saw this on my friends blog and decided I had to play along.
Here are my choices!

Eff: Vin Diesel...Um....do I really need to explain? I have a thing for bald, tough, strong men! I will seriously watch any show that he is in just to stare at that beautiful creature!
Marry: Gerard Butler, this guy has the whole package. He is sexy, cute, sweet, rich, and has the most amazing accent! I fell in love with this guy in 300 and P.S. I love you! Man look at that face! Swoon....
KILL: Ok Sorry for all you Justin heart throbs out their but I don't have the Bieber fever. This kid gets on my nerves. I can't stand his music and I basically get so annoyed when he does his hair flip. Ugh...like really, you need to cut your hair!